3Doodler Create+ Learn from Home Pen Set
New Item!
Available only at the3doodler.com
Accessible 'Open-and-Go' At Home Learning: This all-in-one individual learning pack enables kids ages 14+ to explore difficult concepts hands-on in 3D, boosting their creativity and confidence.
Perfect for STEM Learning: Do your students see the connection between what they learn in school and the world around them? 3Doodler ties in real-world connections to bring technical learning to life through Doodling!
Fosters Design Thinking and Creative Doodling: Includes access to our fun and educational webinar series, plus our online library which contains hundreds of hours of FREE projects, lesson plans, stencils and how-to videos.
Take your doodling skills to the next level with 3Doodler Create+ Nozzle Set.
Product Details
Creating and learning with 3Doodler has never been easier and more accessible to learners. This 'open-and-go' toolkit was designed to be an extension of the classroom for at home learning fun.
Our easy-to-use, uncomplicated technology gets kids ages 14+ to use their imagination as they test and explore different ways of tackling a problem, introducing them to the engineering design process while advancing learning and engagement
All learners will thrive when they experience what it's like to use their hands and minds as they bring their ideas to life in 3D using the latest version of the world's first 3D Printing Pen! 
In addition to our Create+ pen set and an assortment of additional plastic strands, we've included exclusive PDF access to the "What Will You Create Project Book, and hours of FREE online educational content from projects, to tutorials and how-to-videos available on our website. What is more, kids, parents and educators can tune into our Learn from Home Webinar Series via YouTube.
Warranty
100% Satisfaction Guaranteed. If you have any issue with your product and/or would like a refund, simply contact us at help@the3doodler.com.
Shipping Info
Usually ships within 1-2 business days from our Liverpool warehouse, delivery options available at checkout.
In the Box
SKU
Item Weight
0
Frequently Asked Questions
What plastics can I use with the 3Doodler Create?

The 3Doodler Create is compatible with official 3Doodler ABS, PLA, and FLEXY filaments. Please do not try to use the 3Doodler Create with any third party filaments, or 3Doodler filaments exclusively for the 3Doodler PRO or the 3Doodler Start.

Does 3Doodler plastic emit harmful fumes?

3Doodler plastics have been tested for heavy metals, and have undergone full toxicological risk assessments, passing each and every test. Some users notice a slight "plasticy" smell when using ABS. Many users prefer the smell of PLA, which, being corn based, can smell like popcorn. No matter what material you're using, and whether you're using a 3Doodler or a traditional 3D printer, we recommend working in a ventilated area.

What kind of maintenance is required?

The 3Doodler does not require much in the way of maintenance. Please see our other FAQ in the event of feed issues or jams, or feel free to contact us by emailing here: help@the3doodler.com
Speed Control
Speed Control
Greater control using fast & slow speeds. Fast mode allows you to Doodle big areas faster, & slow mode is perfect for intricate details.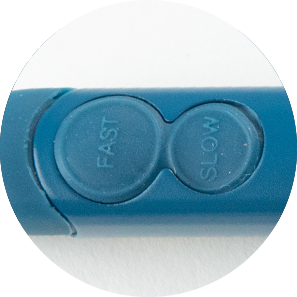 Dual Temperature
Dual Temperature
Optimized temperature control ensures more reliable performance with all 3Doodler ABS, PLA, FLEXY Plastics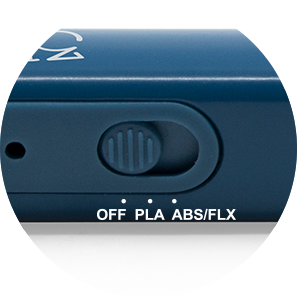 Easy to Use
Easy to Use
Easy one-click start and stop. Double click to reverse.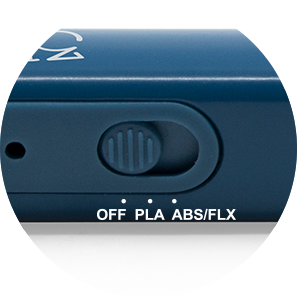 -->
Over 2,500,000 Happy 3Doodlers!