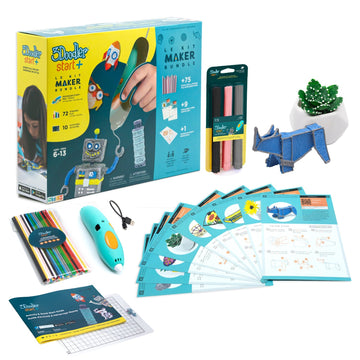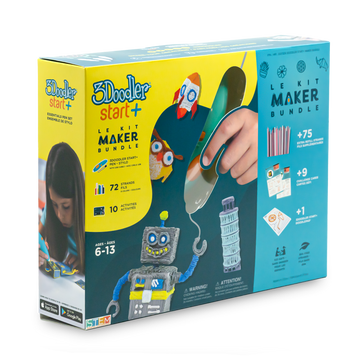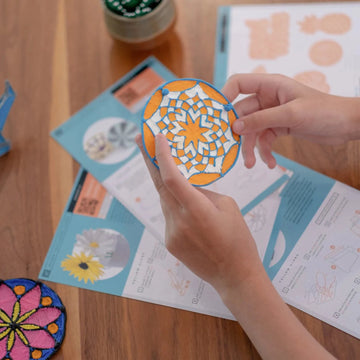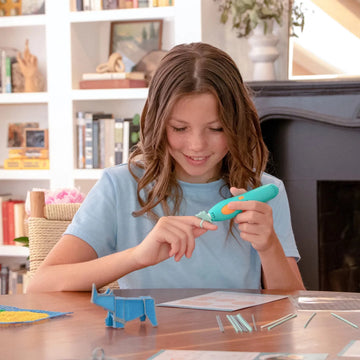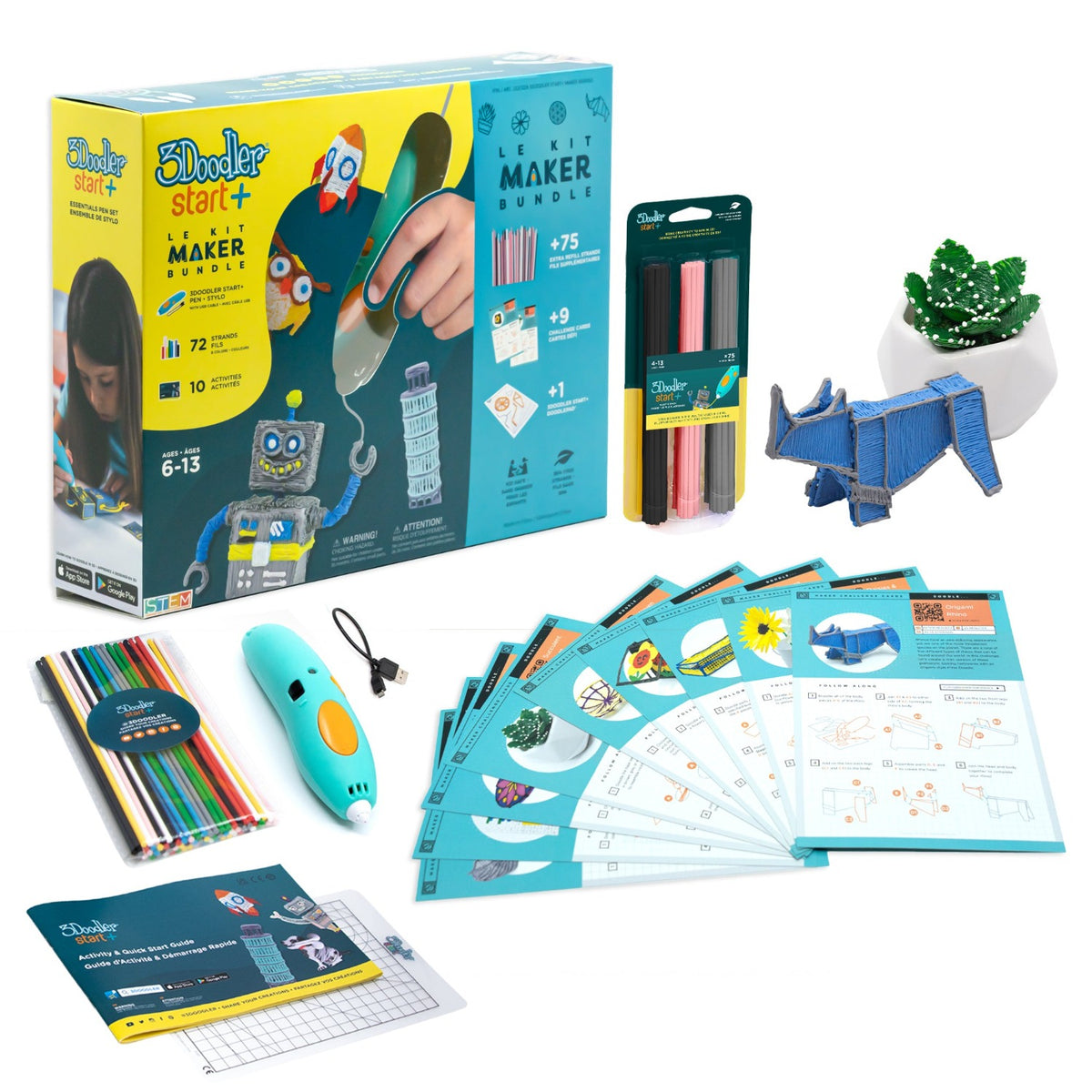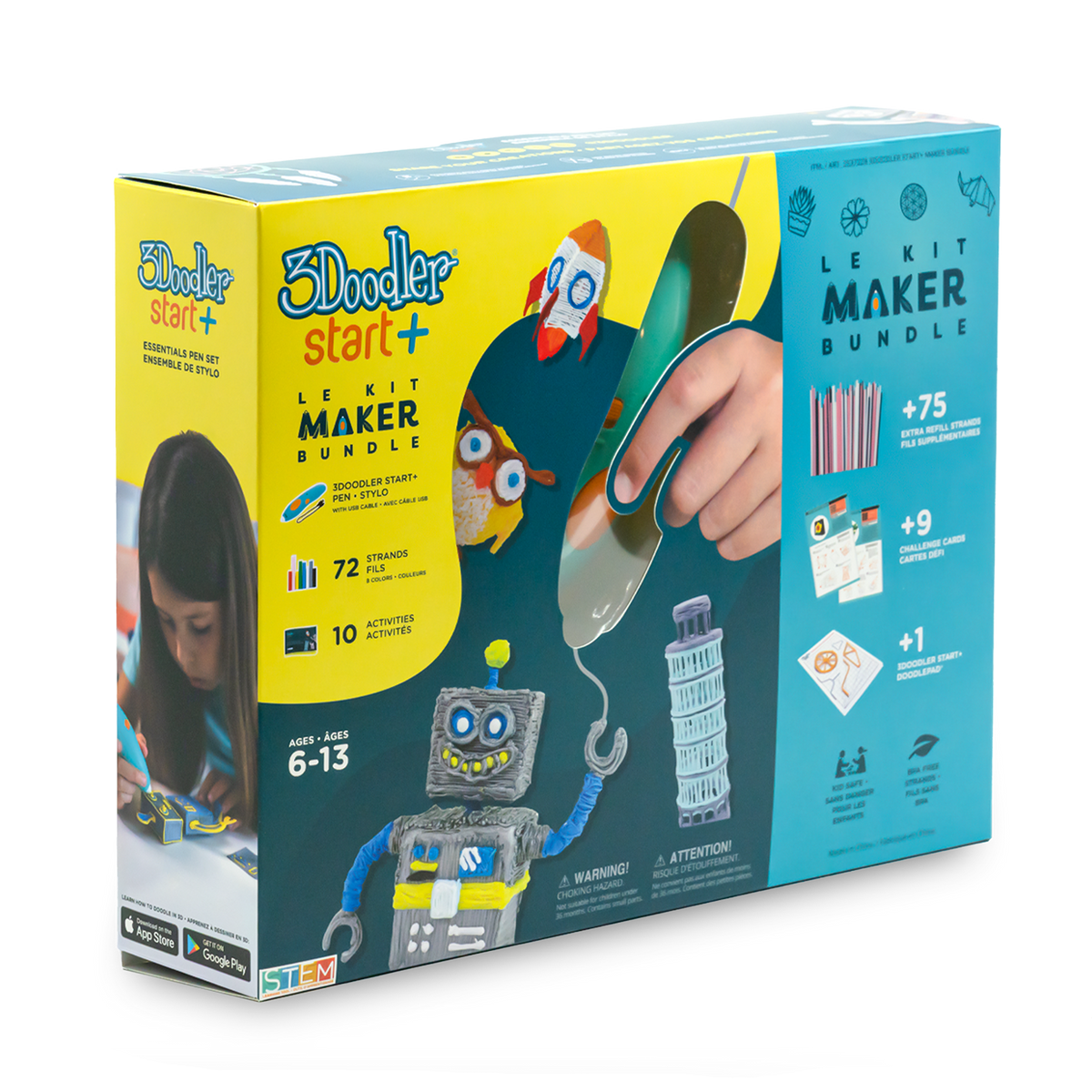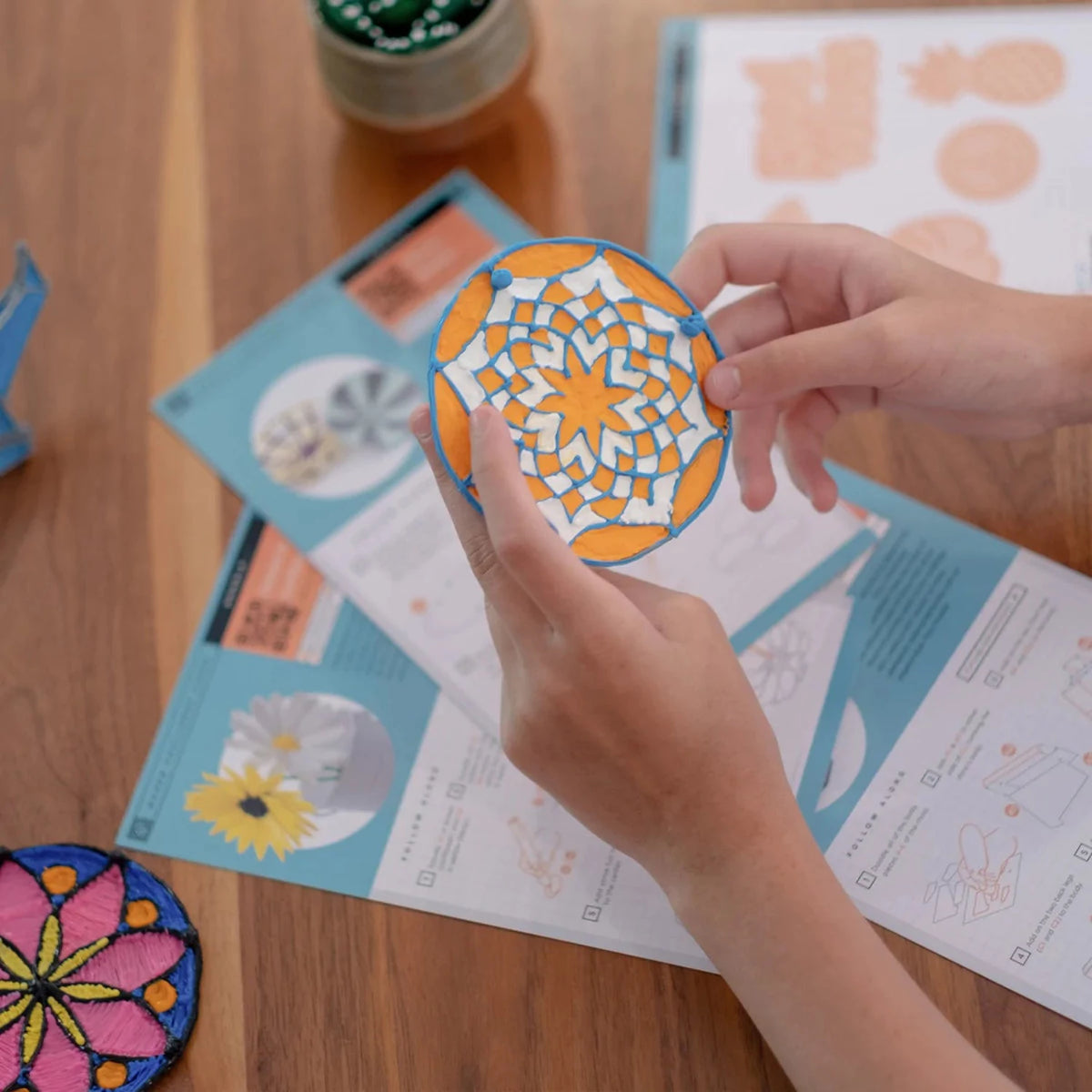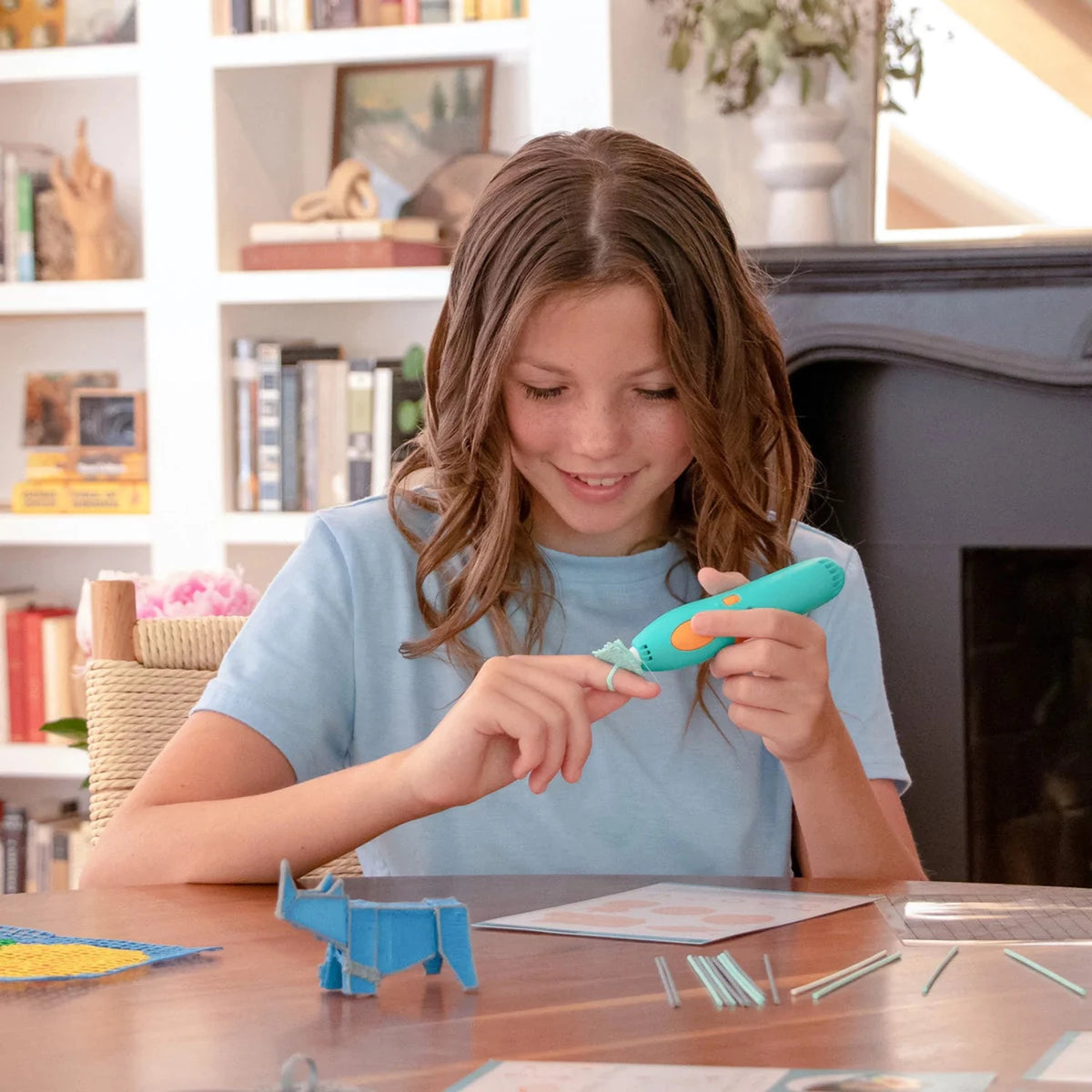 3Doodler Start+ Maker Bundle
New Item!
Hands-On Creativity: Inspire design thinking with the perfect 3D pen set for kids who love to invent and make things.
Imaginative Play: The 3Doodler Start+ Maker Bundle engages kids' imagination by giving them the tools to express their ideas visually with the press of a button.
Child-Safe: Designed with no external hot parts, completely safe for kids ages 6-13.
FREE Ultimate Guide to Doodling Book: Featuring 26 exciting step-by-step projects, this book will take your design skills to the next level.
Product Details
The 3Doodler Start+ Maker Bundle puts a creative spin on the universal pastime of drawing, by challenging kids to think in 3D as they design solutions to everyday problems.
The latest all-in-one set engages kids' imagination by giving them the tools to express their ideas visually with the press of a button. Its easy-to-use, uncomplicated technology, slim design, and companion tutorial videos ensure kids experience success - right out of the box. With over 20 design projects of varying levels, this open-ended educational toy can be used time and again for creative, unlimited play.
The pen set includes a wireless 3D Pen, all-new colors, plus more strands of safe and eco-friendly filament, and a DoodlePad!    
Warranty
100% Satisfaction Guaranteed. If you have any issue with your product and/or would like a refund, simply contact us at help@the3doodler.com.
Shipping Info
Usually ships within 1-2 business days from our Liverpool warehouse, delivery options available at checkout.
In the Box
1x Start+ 3D printing pen + micro USB charging cable
1x Quickstart Activity Guide (10+ projects)
1x 3Doodler Start+ Eco-Plastic Pack (72 strands in 8 colors)
1x 3Doodler Start+ Eco-Plastic Mixed Blister Pack (75 strands)
1x Set of Maker Challenge Cards (9 projects)
1x 3Doodler Start+ DoodlePad
1x 3Doodler Project Book
SKU
SPLUS-COSTB
Item Weight
0.8 kg
Frequently Asked Questions
What plastics can I use with the 3Doodler Create?

The 3Doodler Create is compatible with official 3Doodler ABS, PLA, and FLEXY filaments. Please do not try to use the 3Doodler Create with any third party filaments, or 3Doodler filaments exclusively for the 3Doodler PRO or the 3Doodler Start.

Does 3Doodler plastic emit harmful fumes?

3Doodler plastics have been tested for heavy metals, and have undergone full toxicological risk assessments, passing each and every test. Some users notice a slight "plasticy" smell when using ABS. Many users prefer the smell of PLA, which, being corn based, can smell like popcorn. No matter what material you're using, and whether you're using a 3Doodler or a traditional 3D printer, we recommend working in a ventilated area.

What kind of maintenance is required?

The 3Doodler does not require much in the way of maintenance. Please see our other FAQ in the event of feed issues or jams, or feel free to contact us by emailing here: help@the3doodler.com
On / Off Switch
On / Off Switch
Slide this switch to turn it on. Allow 1 minute for the pen to warm up. Out of power? Charge it up!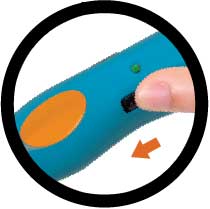 LED Light
LED Light
Red: Warming Up
Green: Ready to Doodle
Flashing Yellow: Charging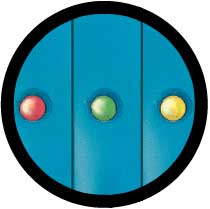 Insert a Strand
Insert a Strand
Pick a color and then feed in the strand until you feel it grip.
Click to Start. Click to Stop. Double Click to Reverse.
Easy Operation
Click to start, click to stop, double click to reverse. It will take 10-15 seconds for a new strand to feed through the pen, then you can start Doodling in 3D!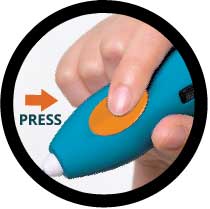 Pen Nozzle
Pen Nozzle
Our plastic hardens after a few seconds, giving you time to shape your Doodles to perfection.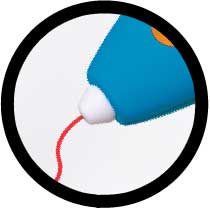 -->
Over 2,500,000 Happy 3Doodlers!